Kim Woo Bin menjadi aktor muda yang menjajaki karirnya dengan menjadi model terlebih dahulu. Namanya pun melambung setelah sukses membintangi drama dan film. Sahabat Lee Jong Suk ini dikenal dengan selalu memerankan karakter "dingin" namun seperti apa kepribadian Kim Woo Bin di dunia nyata?
Dalam konferensi pers The Moment of Kim Woo Bin in Asia "White Day with Kim Woo Bin in Indonesia" yang digelar di 14 Maret lalu di Hall Kota Kasablanka, Kim Woo Bin pun mengungkapkan bahwa dirinya sebenarnya memiliki kepribadian yang pemalu. Ia juga mengungkapkan bahwa dari semua karakter yang pernah ia perankan sebenarnya tidak ada yang benar-benar spesifik menggambarkan dirinya. "Ada bagian kecil dari setiap karakter yang mirip tapi tidak keseluruhan," ujarnya.
Ketika ditanya mengenai karakter dirinya di dunia nyata, Kim Woo Bin mengatakan bahwa ia sebenarnya adalah orang yang pendiam. Ia pun sering tenggelam sendiri dalam pikirannya, tidak seperti yang terlihat bahwa ia orang yang ceria. Pada kenyataannya Kim Woo Bin memiliki kepribadian yang kalem.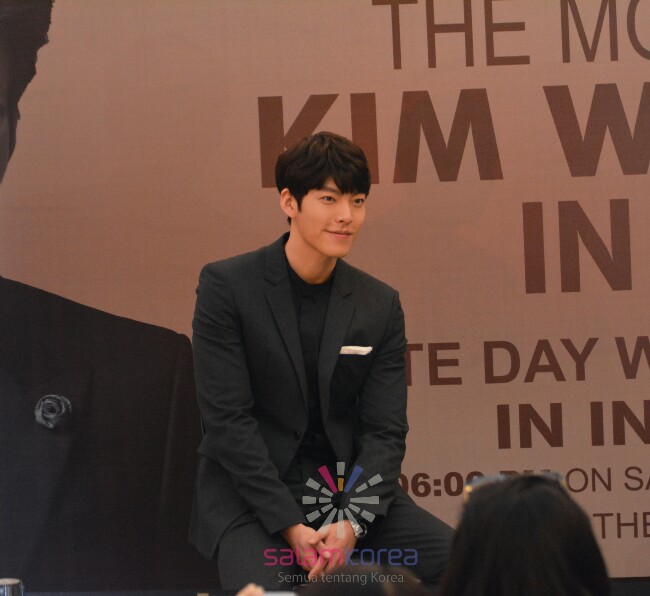 Sepertinya apa yang dikatakan Kim Woo Bin mengenai kepribadiannya ini benar, dalam sesi wawancara tersebut ia juga bercerita tentang film yang membuatnya menangis.
Film Will Smith, "Pursuit of Happiness" menjadi film yang menginspirasi Kim Woo Bin untuk berakting. Ia mengatakan bahwa ia pernah berada di posisi terbawah bukan menjadi orang yang terkenal. Aktor kelahiran 1989 ini mengatakan dengan menonton film ini, ia bisa "relate" dengan dirinya sendiri untuk berada di posisi sekarang.
Inilah mengapa ketika ditanya bagaimana Kim Woo Bin menilai dirinya sendiri, ia mengungkapkan. "Saat ini setiap hari masih belajar untuk mengembangkan diri menjadi orang yang lebih baik," kata Kim Woo Bin sembari tersenyum.