Tak hanya penggemar yang ingin memeluk idolanya, sang idola pun bisa punya keinginan untuk memeluk penggemarnya. Inilah yang ingin diutarakan Kim Woo Bin sebelum menggelar acara The Moment of Kim Woo Bin in Asia "White Day with Kim Woo Bin in Indonesia."
Seperti halnya Valentine's Day, White Day menjadi momen istimewa untuk mengungkapkan kasih sayang kepada orang terkasih. Kim Woo Bin adalah salah satunya yang ingin melakukan hal istimewa untuk orang-orang yang disayanginya, yakni Wooribin.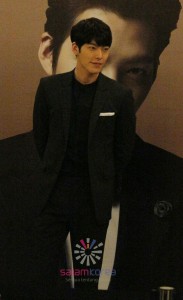 Momen White Day, adalah saat romantis bagi Kim Woo Bin. Ia pun mengungkapkan bahwa di hari istimewa ini, ia ingin memeluk satu persatu penggemarnya.Sayangnya, hal tersebut tidak bisa dilakukan untuk Kim Woo Bin mengganti pelukan dengan tatapan matanya.
"Karena tidak bisa dipeluk satu persatu, maka aku akan menatap mereka satu persatu. Eye to eye rasanya akan cukup untuk menggantikan keistimewaan di hari ini," ungkap Woo Bin.
Woo Bin juga mengungkapkan keinginannya untuk selalu memberikan yang terbaik bagi semua orang yang telah mendukungnya. Kelak ia ingin menjajal kemampuan bermain film Hollywood, untuk itu ia akan selalu meningkatkan kemampuan agar menjadi aktor yang baik bagi penggemarnya.