Korea Selatan tempati peringkat 118 dari 143 negara dalam survey "Experience of Happiness" yang diselenggarakan oleh Gallup. Hasil tersebut didapatkan Gallup menyurvei sekitar 1000 orang dari masing-masing negara dengan range umur > 15 tahun. Mereka diberikan pertanyaan dengan jawaban "YA/TIDAK" seperti berikut :
Did you feel well-rested yesterday?
Were you treated with respect all day yesterday?
Did you smile or laugh a lot yesterday?
Did you learn or do something interesting yesterday?
Did you experience the following feelings during a lot of the day yesterday? How about enjoyment?
dan inilah hasilnya
Top 25 Happiest Countries/143
1. Paraguay – 89 points
2. Colombia – 84 points
3. Ecuador – 84 points
4. Guatemala – 84 points
5. Honduras – 82 points
6. Panama – 82 points
7. Venezuela – 82 points
8. Costa Rica – 81 points
9. El Salvador – 81 points
10. Nicaragua – 81 points
—–+++++——-
43. China – 75 points
83. Japan – 66 points
118. South Korea – 59 points
143. Sudan – 47 points
Dalam survey ini negara bagian Amerika Latin menempati 10 besar, disusul Eropa dan Amerika serikat. Negara di kawasan Asia termasuk Korea menempati peringkat bawah.
Berdasarkan hasil survey ini, dapat ditarik kesimpulan tentang peringkat kasus bunuh diri :
In order of happiness:
1. Paraguay (Suicide Rank: 110/173)
2. Colombia (120)
3. Ecuador (79)
4. Guatemala (86)
5. Honduras (118)
6. Panama (131)
7. Venezuela (158)
8. Costa Rica (103)
9. El Salvador (40)
10. Nicaragua (71)
11. Philippines (153)
…..
118. South Korea (3)
Intinya, jika suatu negara menempati peringkat bawah dalam survey kebahagiaan, maka negara tersebut berada di tingkat atas dalam survey kasus bunuh diri. Begitupun sebaliknya.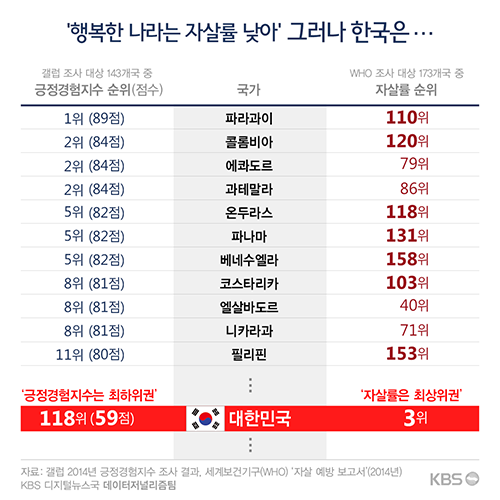 Hasil survey ini pun mendapat reaksi dari para netizen Korea, mereka setuju dengan hasil tersebut karena hidup di Korea memang terbilang keras dan tingkat stress yang tinggi. Mereka yang sudah dewasa dituntut untuk bekerja keras dan menghasilkan uang, sedangkan yang masih umur sekolah dituntut untuk belajar, belajar dan belajar hingga hampir tidak ada waktu untuk istirahat
[+422, -20] I'm a student and my only wish is to sleep and have more free time. I'm not trying to say I refuse to study but please..
[+408, -11] As a kid, you're depressed over your studies… grow up and that depression is focused on employment, marriage, financial issues… then as an elderly, you get ignored for being poor. Our country is ruining itself with people always in a rush and always comparing themselves to others. In Japan, someone can be respected just for being a master at making tamago.. while in our country, anyone who isn't a lawyer or a doctor is looked down on. Tsk tsk.
Wah apa tanggapan Jeolchin tentang hasil survey ini?