Annyeong haseyo!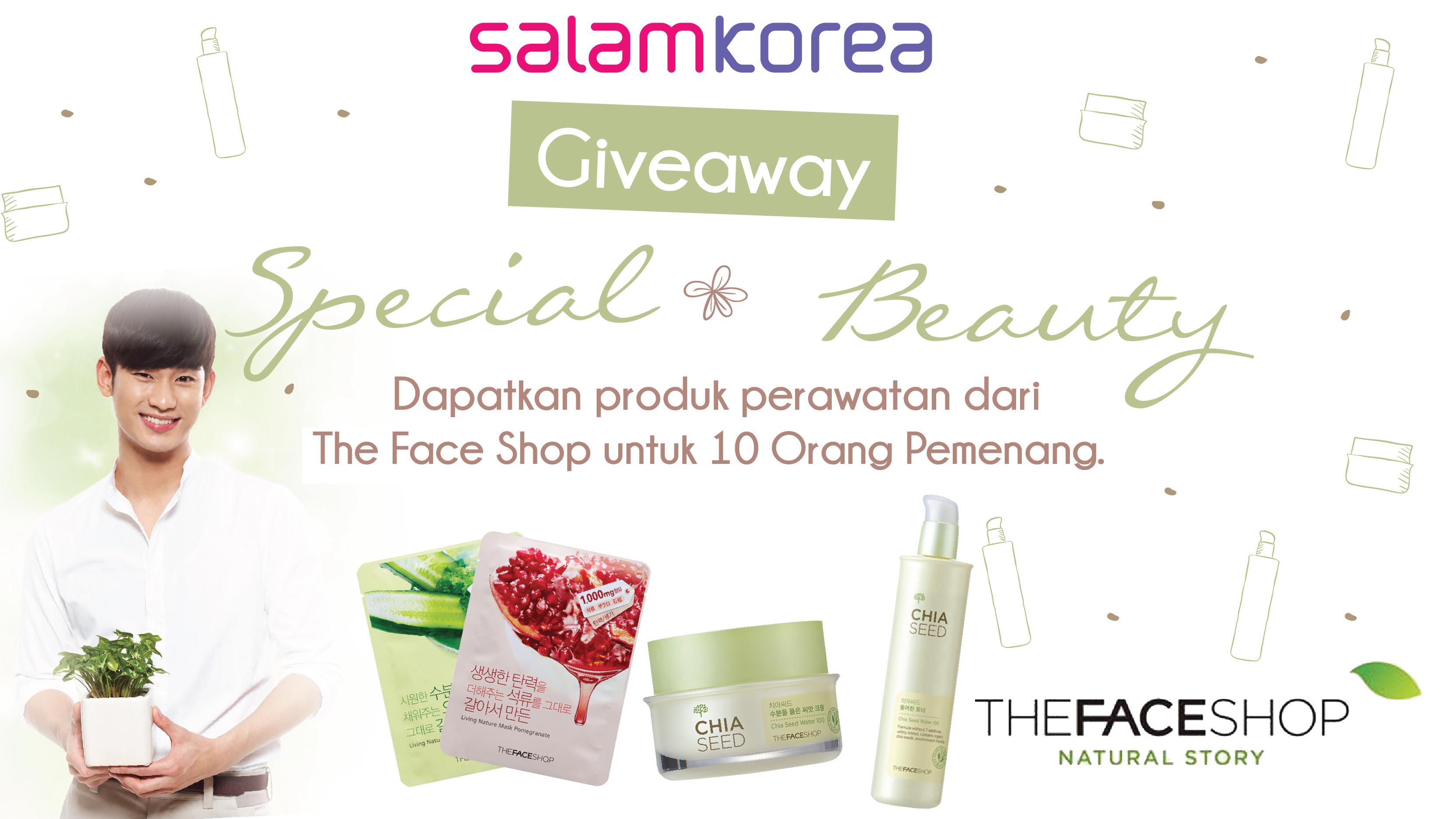 Saatnya Salam Korea Giveaway! Jeolchin tentu tahu produk kecantikan Korea The Face Shop. Brand ini menjadi salah satu yang terbesar dan menjadi favorit di Korea lho. Sejak rilis tahun 2003, The Face Shop berhasil merebut banyak perhatian pengguna kosmetik baik pria dan wanita karena produknya yang alami.
Untuk melebarkan sayapnya, The Face Shop juga selalu menggaet bintang Hallyu yang punya kharisma natural dari kecantikan dan ketampanannya. Sebut saja Bae Yong Joon, Kim Hyun Joong, Suzy miss A, Seohyun SNSD, dan sejak 2014 Kim Soo Hyun dipilih bergabung sebagai ambasador The Face Shop di seluruh Asia kecuali Korea, Jepang, dan Hongkong.
Kali ini Salam Korea Giveaway akan membagikan produk perawatan kecantikan dari The Face Shop berupa 2 paket Chia Seed, 3 Mask Pack, dan 5 Lipstick untuk 10 orang pemenang.
Nah mau wajah ayu semulus para bintang Hallyu? Yuk dapetin Special Beauty dari Salam Korea. Ikuti dulu ketentuannya ya!
Ketentuan Give Away:
Follow Twitter Salam Korea di @salamkorea.
Like Facebook Fanpage Salam Korea.
Follow Instagram Salam Korea di salamkorea.
Register di website Salam Korea.
Menjawab pertanyaan dengan menuliskan komentar di bawah artikel ini.
Berlangganan Newsletter Salam Korea (masukkan email di bagian paling bawah website)
1 Akun hanya diperbolehkan mengisi 1 (satu) kali jawaban.
Jawaban ditunggu sampai hari Sabtu, 29 November Pkl 00.00 WIB dan akan diumumkan di hari Minggu, 30 November Pkl 22.00 WIB.
Pemenang akan ditentukan berdasarkan kriteria yang sudah ditetapkan oleh Salam Korea & keputusan tidak dapat diganggu gugat.
Pemenang akan dihubungi oleh Salam Korea.
Caranya:
Sebutkan artikel Salam Korea favorit kamu!
Ikuti survey Brand Korea yang paling kamu suka di sini.
Tulis jawaban nomor 1 di kolom komentar lalu tulis data diri dengan format berikut:
Nama/Usia/Domisili/Akun Twitter/Akun FB/Akun Instagram/
Hwaiting!
* Contact: admin@salamkorea.com.