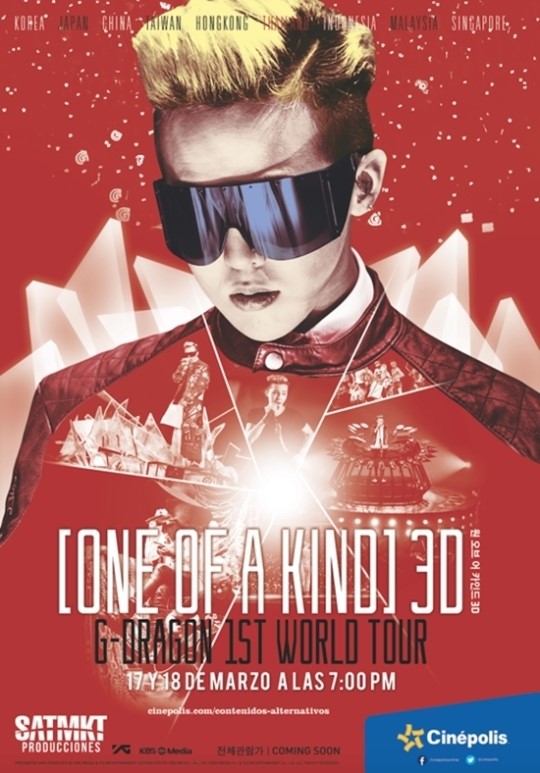 G-Dragon dikabarkan akan segera merilis film dokumentasi dari tur dunia solonya yang dimulai dari Mexico.
Pada 13 Maret, perwakilan dari agensi G-Dragon, YG Entertaiment , menyatakan,"G-Dragon akan menayangkan film dokumentasi dari tur dunia solonya,'One of a Kind 3D G-Dragon 2013 1st World Tour' pada 17 Maret mendatang di lebih dari 20 bioskop 'Cinepolis' di seluruh wilayah metropolitan Mexico, serta Cancun, Puebla, Campeche, dan Merida."
Dimulai dengan Mexico, film dokumentasi G-Dragon direncanakan akan tayang di seluruh Amerika Tengah. Cinepolis, bioskop yang akan menayangkan film dokumentasi, berada di peringkat ke empat global di antara semua bioskop multipeks  dunia.
'One of a kind 3D' memasukan 8 negara, 13 kota, dan 27 tur konser yang G-Dragon adakan selama tahun 2013.  Hal ini sebelumnya telah ditayangkan di Korea, Jepang, Taiwan, Singapura dan banyak lagi.
Sementara itu, Bigbang saat ini tengah mempersiapkan album comeback mereka.