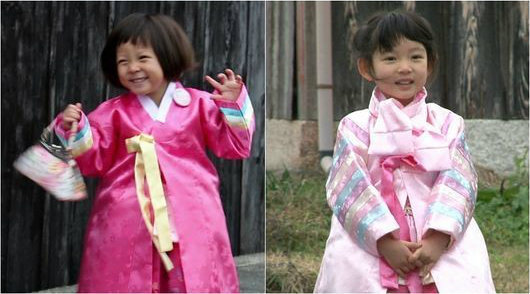 Chu Sarang membuat kita semakin gemas dengan kelucuannya. Gadis kecil ini menggunakan Hanbok berwarna Pink cerah yang membuatnya semakin terlihat imut apalagi dengan potongan rambut pendek dan poninya yang menggantung. Dalam episode terbaru The Return Of Superman, Chu Sarang akan menghabiskan waktu bersama kakak sepupunya Yumei di Kyoto.
Setelah episode lalu Chu Sarang menghabiskan waktu dengan Song triplets, kali ini sarang bersama sepupunya Yumei akan mengunjungi neneknya di Kyoto untuk mengucapkan salam tahun baru. Selama perjalanan menuju Kyoto Sarang selalu tersenyum tak dapat meyembunyikan rasa senangnya.
Chu Sarang terlihat semakin lucu bukan?