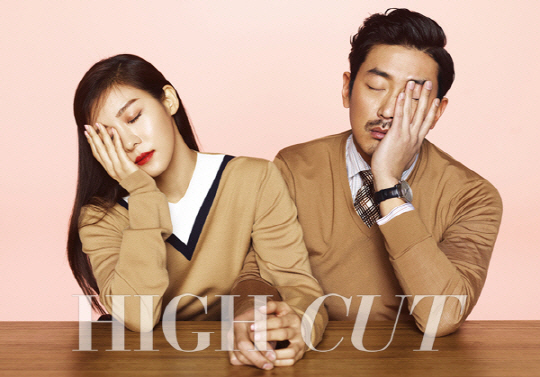 Pada 14 Januari, High Cut merilis foto-foto dari pemotretan yang menampilkan aktris Ha Ji Won dan aktor Ha Jung Woo, pemeran film terbaru "Chronicle of Blood Merchant" dengan kalimat, "Pria dan wanita, kembar fraternal yang memimpin industri film, aktor Ha yang kita percayai dan tonton."
Di foto-foto tersebut, sang aktor dan aktris bergaya dengan konsep kembar fraternal. Di salah satu foto, pasangan yang akrab disebut HaHa Couple ini memakai sweater beige yang sama. Jari-jari mereka bersentuhan dengan pose yang sama.
Di foto yang lain, Ha Ji Won dan Ha Jung Woo terlihat memakai warna pink dari atas ke bawah, Ha Ji Won memakai gaun pink cerah sedangkan Ha Jung Woo memakai jas dengan warna yang serupa.

Foto-foto pictorial mereka lainnya akan dirilis di majalah High Cut edisi 142 yang akan dipublikasikan pada 21 Januari mendatang.
Di sisi lain, Ha Ji Won dan Ha Jung Woo bersama-sama membintangi film "Chronicle of a Blood Merchant" yang mulai dirilis di Korea Selatan pada 14 Januari mendatang.